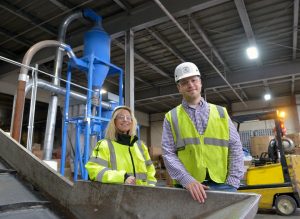 Northstar Pulp & Paper is not your everyday recycling company. It processes and resells paper, metals and plastics and recently added repairing and selling wooden pallets to the reuse repertoire. The work – collecting, compressing, baling, grinding, and delivery – is done by roughly 80 employees who process 20,000 tons of scrap material every single month in two warehouses that together provide 300,000 square feet of working space in Springfield.
Three state grants totaling $215,000 received in the past two years have helped Northstar purchase equipment, add to the workforce and offer safety education and training to employees.
In announcing one of the most recent grants, roughly $90,000 for equipment, Gov. Charlie Baker noted that advancing opportunities to increase recycling protects the environment and supports the economy. Goodman said, "We've been very fortunate."
Hyman Goodman started his business on the streets of Worcester, where he walked with a wooden cart, ringing a bell and asking residents if they had rags to spare. He then sold the rags to paper mills as a source of fiber.
Things have changed quite a bit over the years. Major transitions included the beginning of scrap metal recycling in the 20th century and moving to Springfield, under second-generation owner Harry Goodman, early on in that same era.
Other changes have included making shifts as supplies have changed. For instance, Aaron Goodman explains, the paper Northstar processes was once of a higher quality. Envelopes and stationery, which have all but disappeared in the digital age, gave way to chipboard and corrugated paper from clients such as packaging plants. Today's paper is sold to major paper mills in the United States and Canada for a variety of products, including corrugated boxes, cores for paper rolls, towels and tissue paper.
Please view the full article at the following link:
https://www.masslive.com/business-news/2018/02/springfield_recycler_northstar_pulp_pape.html